We support responsible pet owners and the promote the designation of an Act that is NON-Breed Specific.
Banning/eliminating a breed will not eliminate dog bites.
That will just lead to higher incidents of other types of breeds.
The 'onus' is on the breeders, the owners, and lest we not forget, the antagonizers (many incidents are provoked).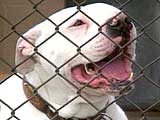 By collectively working to educate our elected officials and the public we can STOP BSL in the Province of Ontario.
Our goal is to
*inform people of the By-laws in their area of the Ontario
* have puppy mills identified, punished and eliminated
*have breeders keep track of pups and make buyers sign contracts with clauses stipulating training/spay/neuter
*have breeders/sellers responsibly follow-up on pup/dog's new home, proof of training class
As part of our mission statement, we might highlight a few significant issues and links to sites with reliable information. For more info on the rest of Canada go to
www.cdar.angelcities.com
(This is coming ion more detail as soon), we may have information on BSL in Canada or Ontario that is not on the other BSL sites.
Our goal is to educate the public and encourage you to sign petitions and vote in the upcoming elections. Your support is critical. Together we can all make a difference.